Ericom is a company founded in 1993 with several offices and a R&D center in Israel. Ericom develops solutions that enable secure, centrally managed connectivity to applications running on Windows Terminal Servers as well as on numerous types of legacy systems (for example AS/400, Mainframe, VMS, Unix types and many more) and VNC connections. In recent years Ericom have extended their focus to the SBC market with their Powerterm Webconnect product, so Ericom also covers the same market as Citrix Presentation Server, Provision Framework Enterprise, GoGlobal and so on. Ericom was the first manufacturer which supported the 64bit platform in the SBC market, so let's take a look at their latest release version 5.5.1.
Installation
PowerTerm Webconnect consists of several components.
- Server, this component is the heart of the product;
- Web server components, this component makes it possible to access the applications via a web browser;
- Load Balancer, this component is responsible for load balance of both application and server load balancing.
- Administration tools, the administration component for the product
- Terminal Server components, installed on the Terminal Server to support load balancing and seamless sessions.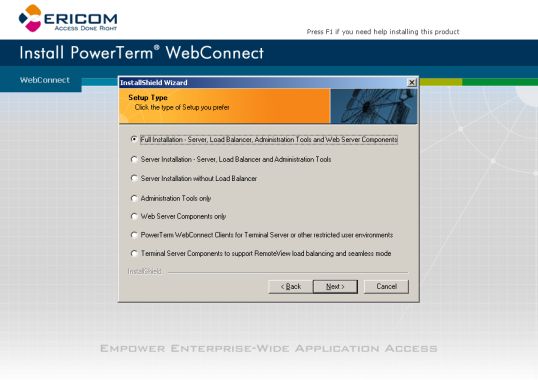 Most components are installed via the setup executable. During the installation process a window will pop-up presenting all the installation options. As you can see all components can be installed on one physical machine or separated between several servers. The installation process is straight forwarded with just a few most necessary questions. A good point (in comparison for example with Thinworx) is that Ericom provided a way to configure a fail-over for the WebConnect server.
It is definitely worth mentioning that the Terminal Server part is only 1,5 MB installation file that does not modify any windows components or the login process.
Because the agent software for Terminal Servers and the clients are available in a MSI format they can be installed unattended. The server component can not be installed unattended yet, but Ericom is working on this for one of the next versions. The server part is also available for the x86 and Power Linux platform.
Configuration
After the installation the administrator can begin configuring the environment. Because this site is for the SBC community, I will only focus on the SBC part of the product, but out of the same console all other host sessions can also be defined.
When you first start the console you may be a little bit confused because the interface is different in comparison with other products.
Ericom supports Application Publishing and Remote Desktop Connections, which can be added via the Action - New menu item. The administration tool comes with a wizard to configure an Application, Document or Url. A pretty nice feature is the ability to configure an application to launch on the local desktop first, if the application is not available locally, it will be launched on a Terminal Server. Instead of directly publishing the application's executable you publish Start Menu or Desktop shortcuts (link files). Using the link files it is not a problem if the application is not installed on the same location on the servers. The publishing wizard also allows you to specify settings such as color quality, access to local resources (printer, drives, serial ports or smartcards), authorized users and groups, and assign servers for Application Load Balancing. Within the same menu you also have the option to perform Multiple Application Publishing. Using this option you select one of the Terminal Servers and the software will display all applications mentioned in the Start Menu. Select the applications you want to publish with defined settings and with a few clicks you can quickly publish lots of applications.
In previous version authorization is done via PowerTerm WebConnect own groups as described in the previous version. In version 5.5.1 Ericom changed this with direct connection to Active Directory like in most products.
PowerTerm WebConnect includes a load balancer, which can be configured in a separate console. The load balancer can be configured based on Sessions, Memory, CPU or combinations of those three. Beside several built-in configurations you can create your own custom criteria.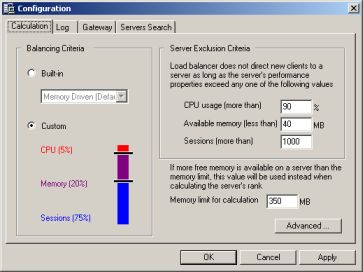 Ericom supports SSL by default within the existing products, so you do not need additional software to make your applications available via public networks. PowerTerm WebConnect has two connection modes Direct (client has a direct connection with the Terminal Server after authentication) and a Gateway mode (connection travel trough the PowerTerm WebConnect server component) . Ericom offers a Windows client, ActiveX component and a Java client, so you can also connect to PowerTerm WebConnect from a Linux desktop. The clients can auto update themselves when a newer version is placed in the download directory of the server(s).
Some in-depth configuration can be made in the configuration file of the product itself. These files are accessible via the menu bar of the administration console.
Also new in version 5.5.1 is a Universal Printer Solution and CPU & Memory Management. Ericom did not developed these features their selves, but licenses those from well know suppliers. Tricerat delivers their screwdrivers product and RTO their TS Scale Advanced product. Till now these products need to be installed, configured and managed separately in their own consoles.
Management
Management is done through the same console as the configuration. Within the console there are several options available to manage your environment. For example if a user experiences problems connecting to an application you can use the Intruders icon to open a list of failed connection attempts. Within this list you can see which user tries to start an application and the reasons these operations were not allowed.
In the same menu there is also a icon called client sessions. This list automatically updates in real-time as users start and stop sessions. Out of this console you can shadow (via VNC) the user's entire local desktop, close the session (Ericom calls this shutdown) and send a message to the user. Within this send message option Ericom offers a simple but effective feature called reply mode. If you as an administrator send a message you can choose if the user can, must or may not reply to the message. Very useful for troubleshooting, because you can start a kind of chat session without any telephone conversations. For administrators sessions another icon is available, so with a quick glance you can see which other administrators are connected to the administrator console from other locations.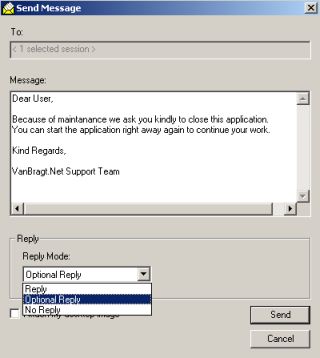 Other information is mainly stored in CSV log-files. These log-files can be found in the menu under Files - Log Files. As with all text based log-files it is sometimes difficult to find the information you are searching for, although Ericom already separates the log files on several objects. Out of the management console you can also start some default Windows management tools like the Event Viewer.
Concerning the load balancer within the tool you see the servers with their current available CPU and Memory resources and the total sessions per server.
In version 5.5.1 history of resource usage is saved. Like the other information this is stored in CSV file. Unfortunately Ericom does not have a report function included in their product.
User experience
As previously mentioned the user can connect to their applications via a web interface or a client. Applications icons can be added to the users Start Menu or Desktop. Also the client is added to the system tray. From this icon users can start applications, change their password (a nice option), ask for assistance from Tech Support or an administrator and modify some client settings. New published applications are automatically appearing in the users Start Menu and the other locations.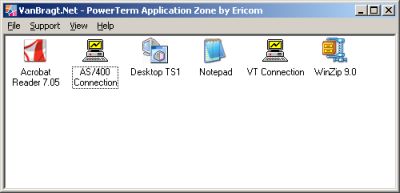 Some RDP based solutions have difficult to support Seamless Windows. The biggest challenge is to properly integrate remote and local applications within the same desktop. Ericom has done a wonderfully good job with Seamless Windows. They even manage to show the little preview splash screen of Outlook 2003 when a new e-mail arrives. PowerTerm Webconnect uses Session Sharing so using optimal usage of the Terminal Server resources.
Conclusion
It is obvious that they have invested significant effort in properly supporting Seamless Windows over RDP. The resell of this effort is noteworthy. They also provide several additional features which are very nice, such as the option to start the application locally if it is available (and otherwise to start it from a Terminal Server), the reply option in the send message feature and SSL encryption without requiring any additional software. Last but not least, PowerTerm WebConnect supports direct connections to all kind of legacy host servers/applications besides the SBC functionally.
The administration console is different from what we as Windows administrators are used to and it is hard to get used to it. Also I prefer one console for all settings, so combining the load manger console with the administrator console would be a nice addition. Ericom also simplified their administrator guides, so they are easier to read but some improvements can be made. Added features are exactly where the market is asking for like the direct Active Directory support, Universal Printer Solution and CPU and Memory management.
Advantages
- PowerTerm WebConnect support besides SBC functionally all kind of legacy host servers.
- Nice features like reply option by send message, SSL support within the products and handy client features.
- True Seamless Windows support.
Disadvantages:
- Administrator Guide is written with a technical backgroup
- Administration consoles are not convenient
- Reporting can be improved